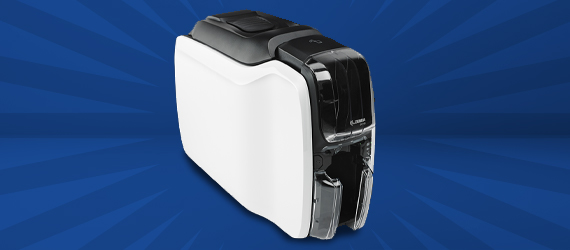 The increased need for security is seen in every aspect of our daily lives, from schools to businesses to airports. In most cases, ID cards provide a simple, effective and affordable solution that meets several needs. In addition to confirming identification, ID cards and badges can allow access to certain areas of a building — or restrict it when necessary.
As technology becomes more sophisticated, businesses, schools and organizations have an increasing number of options for creating custom printed badges and credentials. These can include fully personalized event and ID badges equipped with security options such as hologram foil stamps or RFID technology to allow contactless access.
While many companies or organizations choose to work with a vendor such as ID Shop for designing and printing their badges, another option is to create your own custom printed ID badges on site. If you frequently need new badges made, or have special events that require badges, this is a great choice. For example, schools that have new students enrolling at different times during the year or larger companies that will add and lose employees throughout the year might find that investing in their own card printing machine is the easiest and most cost-effective choice.
Advantages of having your own plastic card printing machine include:
The ability to replace lost or damaged cards on the spot
Freedom to print as many (or as few) as needed
Lower cost per card than outsourcing
Flexibility to create personalized cards for special visitors/events
For smaller companies, outsourcing the work might make more sense. If you're only using the machine occasionally, the investment in a printer, supplies and software might not pay for itself.
However, if you're frequently in need of new cards, investing in a quality ID badge printer can simplify the credentialing process, speed up the timeline of getting your cards made and can be less expensive than outsourcing each time.
How to Choose the Right ID Card Printer
To know which printer is right for you, you first have to know what you need it to do. Do you need double-sided printing, or is one side enough? What type of cards or ink will you use? Will it be basic monochrome? Special metallic ink? And what kind of security options do you want to build into it?
When you know exactly what you're looking for, you can more easily narrow down your printer choices. Investing in a quality, capable printer is essential, since you want to make sure it will be durable enough to handle larger printing jobs.
At ID Shop, we offer several premier ID printing products, including the Zebra ZC Series of card printers and ink ribbon products. This line, which includes the ZC100, ZC300 and ZC350, offers size and color options that can help in your decision-making process.
All ZC Series printers are easy to install and include interactive videos and guides. Additional ZC Series accessories are designed to provide you with easy installation and calibration. All ZC printers have the ability to connect with your PC so you can track your printing progress and make any necessary changes throughout the process.
Although they share many characteristics, there are some distinctions between the models that can help you make your decision. Let's take a closer look.
Zebra ZC Printer Comparisons
The most cost-effective printer in this line is the ZC100, which relies on simple operative technology to create a single-sided ID badge. One of the great features of the ZC100 is its slim design, which means it can be stored easily or transported for on-site badge printing.
Portability is one feature shared by all members of the ZC family; it can be a huge benefit for those who often plan and travel to conferences and special events. They've got security covered, too, with a cover lock feature to prevent card theft and advanced features that support printer-to-host authentication.
For a more sophisticated printer, the ZC300 has a few more functions than the ZC100, such as allowing dual-sided printing either in color or monochrome. With an easy-to-use USB and ethernet communication system, it is easy to use in different environments, and it also offers support for encoding technology, allowing you to make access cards, debit cards, gift cards and more.
At the top of the line is the ZC350, which has the fastest printing speed and all of the features of the ZC300. However, this one also has more print configuration choices, including an edge-to-edge color or monochrome option and new printer ribbons with specialty colors/effects. These can be used either to enhance your design or to ensure greater security that can't be replicated. (Or both.)
Let Us Help You Find the Right ID Card Printer
If you frequently need to print new cards and badges, a printer from the ZC series could be a valuable investment. The right ID printer can make your bulk printing jobs faster, more cost-effective and even more creative.
If you're looking for a card printing machine that can help simplify your life, see what the ZC series printers can do for you.