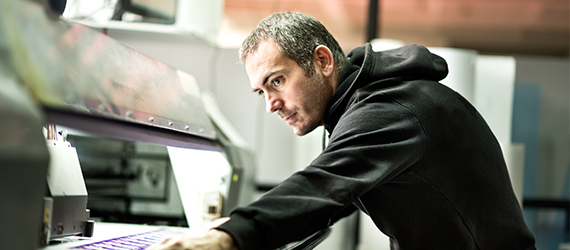 When you decide it's time to get new ID badges — or maybe you're implementing ID cards for the first time or have a special event you need badges for — there are a lot of decisions to make. Beginning with choosing whether to do the printing in-house or use an ID card printing service, there are many details you'll have to address to make sure you get the ID cards that meet your expectations.
In some cases, such as when you have an ongoing need to print ID badges, you might be better off buying a printer and learning how to handle operations in-house. Or, if you decide that working with a third party to print your ID cards is the best choice for your company, you'll want to know what to look for in an ID card printing service and what to expect.
What to Consider When Planning Your ID Badges
You have lots of choices when it comes to the size of card you want, the kind of security options you need and how the card will be used. All of these are important considerations that will affect your purchasing decision. For example, your badges are going to be used by employees every day, so you need them to be made of a durable material like PVC or PET that can stand up to wear and tear.
You also want to think about how your ID badges will be worn and what its primary objective is, since that will affect both the size and orientation you choose. In most cases, a standard card size — which is 3.379 inches by 2.125 inches — is going to be ideal if you're using this only for employee ID badges, but if it's used as a conference or seminar badge, you're going to want something that is larger and easy to read from a distance.
As you think about how it will be worn or displayed, you'll also have to decide if it's going to be fairly well hidden on a retractable reel, worn on a clip on employees' lapels or worn on a lanyard around their necks.
Deciding some of these things before you reach out to a third-party ID card printer can help make the process go more quickly and smoothly.
Then, when you have a pretty good idea of what you want for your ID badges, you can do your research and reach out to an ID card printing vendor who you feel will be a good fit for what you need.
Dos and Don'ts of Working with an ID Card Printer
Every vendor is a little different, of course, but there are some common universal tips for working with an ID card printing service. Here are a few do's and don'ts to help make things run smoothly.
DO
Ask about your options. Tell the ID card printing company what kind of use the card is needed for and, if you need security features, what they have available. Be sure they can provide you with the quality of ID card that conveys the image that's important to you.
Look at the work they've done for others. There are two things in particular you want to consider when reviewing their work: the quality of the badge itself and the quality of the printing/design work. Is the type of badge you're interested sturdy enough to stand up to daily use? Is the printing quality sharp and bright? Is the text clear and easy to read? If you don't like what you see, don't risk it.
Ask questions about their process. What services do they provide? Will they help design your ID card, or do you need to deliver a fully designed proof of your card? Make sure you know exactly what they expect from you — and what you can expect from them.
Provide all the needed art and fonts. If your ID card printing company is accustomed to creating designs as well as printing cards, they probably already have access to a variety of fonts. However, if you have an unusual or custom font, make sure that you can provide that to the printer to get the look that you want.
Proofread everything carefully. You can get a lot of mileage out of your cards, and if you plan to use them for quite some time, that's even more reason to make sure that everything is correct. To avoid spelling errors, in addition to using spellcheck when creating the cards, read the words out loud; it will make you slow down and you're more likely to catch any errors. Also, double-check (and triple-check) any numbers.
DON'T
Base your decision solely on price. You might find a vendor who offers an incredible deal on your ID badges, but remember the old adage about "you get what you pay for." Low-quality cards can have a number of issues, such as fading fairly quickly, having blurry text or simply wearing out sooner than they should. The quality of your card and the reputation of the vendor you're using should factor heavily into your decision.
Make lots of changes. It's easy to second-guess your decisions and be tempted to make a "few tweaks." Be careful, as that's where mistakes can enter the picture. Make sure you're entirely comfortable with the look of your ID badges before you turn it all over to the printer; then, when you do, know that it's in good hands.
Forget about accessories. As mentioned earlier, badges need to be displayed in some form, whether it's a lanyard, a clip or a retractable reel. Your card printing vendor probably has a selection for you to choose from and can help advise you on what might work best with your card choice.
Wait until the last minute. If you need cards for a certain date or event, be sure that you allow plenty of lead time. The process of creating an ID card takes time and you'll need to leave enough time for the printer to create proofs for you to review, schedule the print job and get it shipped to you before your deadline.
Find the Vendor Who Is Right for You
When it comes to choosing the right ID card printing service, look for a company that has an excellent reputation, is responsive and can answer all your questions or address your concerns. The best card printing service for you is the one that can deliver exactly what you're looking for, so don't be afraid to ask lots of questions before making your choice.