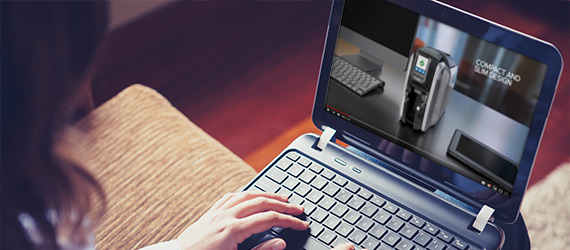 If you haven't updated your ID badge printer in a while, there's a menagerie of new features and technology giving you the perfect reason to do that. You might be surprised to see what's new on the market, both in terms of capabilities and design. The Zebra series of plastic card printers is engineered to make printing so simple that you'll wonder how you ever tolerated your previous badge printer.
What's so great about the Zebra line? Glad you asked, because there's a lot to tell you about — and you're going to like what you hear. This new breed of badge printers has made printing more portable while at the same time making operations more secure.
Taking ID Badge Printing to the Next Level
The Zebra ZC300 and ZC350 are both designed to be so simple that they can easily be used by anyone who knows how to push a button. These siblings share many similarities, so first let's look at what they have in common.
Both printers are up to whatever task you have for them. They can go beyond your basic ID badge and print dual-sided cards either in color or black and white. If you need to print magnetic stripe or contactless cards, they can do that, too, and they're compatible with whatever platform you need to deliver it from — Apple, Android, Windows, etc.
One of the most endearing features about the Zebra line is its portability. Even though it's built for business, it has a sleek, slim design that allows it to fit just about anywhere you need it. Whether it's part of a permanent setup or it needs to travel to conferences to create on-site badges and IDs, these Zebras are designed to fit right in.
And, since security is always top of mind, the Zebra printers have a cover lock feature that prevents the theft of card stock or rejected cards, making sure your information is never at risk. Speaking of security, both models feature advanced security measures to support printer-to-host authentication. This prevents others from being able to print cards from unauthorized applications or devices, and Zebra also has government-grade encryption to ensure that sensitive data (such as account numbers) isn't compromised during printing.
Built for Speed — and Ease
The ZC300 and ZC350 both offer lightning-fast printing capabilities, and have a USB and Ethernet interface. The ZC300 can print 200 single-sided color cards or 900 monochrome cards per hour, or 140 dual-sided color cards or 450 monochrome cards in an hour. Moving just a little faster is the ZC350, which can handle 225 single-sided color cards or 1,000 single color cards in an hour, or 150 color and 500 monochrome cards in that same time frame.
Every aspect of the Zebra line has been crafted with convenience, speed and ease in mind. The LED/LCD graphical interface uses simple, easy-to-understand icons to make the process faster and more intuitive, and the Zebra printers can be set up in any language.
The ribbon roll is set up for a maximum of 300 color or 2,000 monochrome images per roll, so you'll get more mileage out of it, and it uses a patented print ribbon technology designed to minimize printhead buildup. It uses advanced RFID intelligent technology for automated ribbon detection, driver configuration and more.
When you do have to change the ribbons, Zebra has made it fool-proof and hassle-free, and the state-of-the-art hopper design makes that it easy to load and unload cards.
Also available is the optional CardStudio design software, which is available in four editions and makes it simple to design all types of cards, including ID badges, loyalty reward cards, gift cards and more.
Zebra ZC300 and ZC350 — What's the Difference?
While both of the new Zebra printers are similar in design, the ZC350 has a slight upper hand in the features department. It has more advanced production features, which means you can create sophisticated cards with special effects and customized colors. For example, use a pearlescent ribbon to embed graphics that shift colors depending on the angle from which the card is viewed; not only does this add to the beauty of your card design, but it also provides greater card security.
Logos, text and account numbers can stand out with 3D style effects using a metallic ribbon, and it also allows you to embed a watermark graphic that can only be seen at a certain angle or under UV light. While these add a complex element to the design, they're as simple to create as printing a basic black-and-white card.
What Printer Is Right For Your Needs?
The Zebra ZC300 and ZC350 can be used in a variety of environments, from retail and hospitality to financial services. They can provide general access control for work environments as well as ID badges and access cards for faculty and students in all learning environments. When used to design cards as part of your company's overall branding efforts, they allow you to create stunning, customized ID badges.
While the two printers share many of the same sophisticated, easy-to-use features, they do have some differences. Watch this short video to learn more about each one, see it in action and find out what it can do for you.